Botanical Names of Psyllium:  Plantago Ispaghula, Plantago Ovata
Origin: India
Part Used: Seed
Shelf life: 2 Years
Declaration/Certification: Gluten Free, Non-GMO, Kosher, Halal
Common Names of Psyllium : Flea, lspaghuSpogel, Plantago Psyllium, Isaphgol, Plantago sp., Isabgula, Plantaginis Ovatae Testa a.
Psyllium Other Name: Psyllii semen, Blond Psyllium, Cleansing Plaintain, Natural dietary Fiber, Herbal supplement, Fiber – blend, Laxative, Nutrition- Herbs, Feed Supplement, Pale Psyllium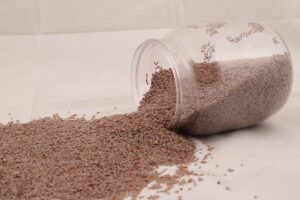 Isabgol is a herbal medicinal plant cultivated in India mainly in the states of Gujarat, Rajasthan and Madhya Pradesh. The dried ripe seeds of the Isabgol plants referred to as Psyllium seeds or Isabgol seeds are the primary part of the plant used in traditional herbal medicine. Cleaned Psyllium seeds are mechanically processed to obtain main products i. e. Psyllium husk and Psyllium husk powder. Psyllium husk is a coating around Psyllium seeds mainly used to relieve constipation as a natural laxative.
Psyllium seeds itself is made up of 40% Linoleic Acid (LA), an important fatty acid essential to health. Physical and chemical specifications of Psyllium seeds are as per below.