Botanical Names of Psyllium:  Plantago Ispaghula, Plantago Ovata
Origin: India
Part Used: Psyllium Seed
Shelf life: 2 Years
Declaration/Certification: Gluten Free, Non-GMO, Kosher, Halal
Common Names of Psyllium : Flea, lspaghuSpogel, Plantago Psyllium, Isaphgol, Plantago sp., Isabgula, Plantaginis Ovatae Testa a.
Psyllium Other Name: Psyllii semen, Blond Psyllium, Cleansing Plaintain, Natural dietary Fiber, Herbal supplement, Fiber – blend, Laxative, Nutrition- Herbs, Feed Supplement, Pale Psyllium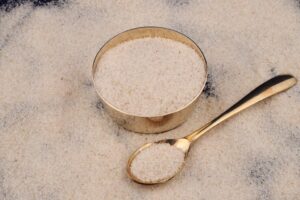 Organic Psyllium Husk is a white fiber husk derived from the seeds of the medicinal plant Plantago Ovata. It is a layer of mucilage around psyllium seeds which is separated through mechanical process. The organic husk is composed mostly of a fiber called hemicellulose which is a complex carbohydrate found in whole grains, fruits and vegetables. Literally, Organic Psyllium husk is pure natural dietary fiber and widely consumed as bulk forming Laxative across the world. Organic Psyllium husk can be consumed in natural form as well in flavoured form with Liquid like water, juice, milk etc.
Gayatri Psyllium Industries manufacture and supply various grades of Psyllium husk with purity range from 80% to 99 % to meet requirements from a range of industries. Specifications of standards grade of Organic psyllium husk is as per below table.
| Description | Organic  Psyllium Husk 85% | Organic  Psyllium Husk 95% | Organic  Psyllium Husk 98% | Organic  Psyllium Husk 99% |
| --- | --- | --- | --- | --- |
| Taste | Blend Mucilaginous | Blend Mucilaginous | Blend Mucilaginous | Blend Mucilaginous |
| Moisture | 10% Maximum | 10% Maximum | 10% Maximum | 10% Maximum |
| Swell Volume | 35 ml/gm Min | 50 ml/gm Min | 60 ml/gm Min | 70 ml/gm Min |
| Total Ash | 4% Maximum | 4% Maximum | 4% Maximum | 4% Maximum |
| Acid Insoluble Ash | 1% Maximum | 1% Maximum | 1% Maximum | 1% Maximum |
| Heavy Extraneous Matter | 0.5% Maximum | 0.5% Maximum | 0.5% Maximum | 0.5% Maximum |
| Light Extraneous Matter | 15% Maximum | 5% Maximum | 2% Maximum | 1% Maximum |
| | |
| --- | --- |
| Insect Infestation | Not more than 100 insect fragments including mites and psocides per 25 grams |
| Total Palate count | < 100,000 CFU/gm |
| Yeast & Mould | < 1000 CFU/gm |
| E Coli | Absent in 1 gm |
| Salmonella | Absent in 25 gm |
Health Benefits

– Mainly used to relieve constipation
– Helpful to treat mild diarrhea
– Promote digestive and Gastro Intestinal health
– May control Blood sugar
– May lower heart disease risk
Application/Usage

– As a food-ingredient in Foods and Bakery products
– As a laxative or Dietary supplement in Pharmaceuticals and Nutraceuticals
– As a Stabilizer, blinding and thickening agent in Foods & Beverages
– As a thickener in Ice cream and frozen foods, and in Capsule formulation
– In Veterinary industry for digestive health of animals specifically equine
Packing

– HDPE laminated Paper bag inside food grade liner – 15 Kg, 25 KG, 50 LBS
– PP Bags – 15 KG, 25 KG, 50 LBS
– Jute Bags – 25 KG, 50 LBS
– Fiber drums 25 KG – 50 KG
| Container Size | Maximum Loading without Pallet | Maximum Loading with Pallets |
| --- | --- | --- |
| 20ft container | 9 MT | 5 MT |
| 40ft container | 20 MT | 10 MT |