The Plant
We have a fully automatic ultra modern processing plant for processing Psyllium Husks and pulverized Psyllium Husks (Powders in various mesh sizes).
The plant is designed as per the recommendations of experts in processing agricultural and pharmaceutical products.
Pneumatic conveying and separation systems are used to eliminate human touch to the maximum possible extent.
The plant has sophisticated balancing equipments , which is vital in ensuring the quality of the product and the cost effectiveness of production.
The plant has an installed capacity of 1500 M.Ton per annum for Psyllium Husk, and it is designed so that there is a free flow in the sequence of processing activities without the hassle of any backtracking.
The building is fully sealed with cemented floors and wired meshed windows to prevent the entry of any rodents and insects. We pride ourselves on keeping a clean and hygienic environment.
The exterior and interior plant area has fully followed by inspection for sanitation and pest management.
Process Flow Chart for Psyllium Husk / Psyllium Husk Powder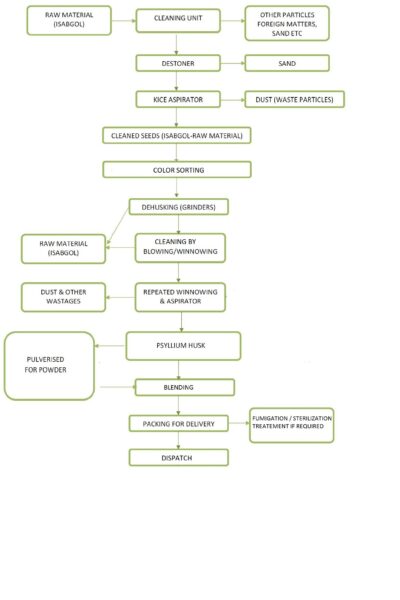 The process
Seed Cleaning

The raw psyllium seeds are cleaned by mechanical process through various steps of processing where no chemicals are used. We have a rigorous ten stage cleaning process of the seeds, which is followed by the de-husking of the seed. All Stages can be cleaned 500 Kg of Psyllium Seed per hour.

De-Husking

Processes for psyllium seeds dehusking to obtain high yields of pure and quality psyllium seed husk.
These processes include milling intact psyllium seeds in a mill which causes the husk to be fragmented by collision under conditions whereby the husk is fractured and separated from the non-husk portion of the psyllium seed without substantial breakage and size reduction of the non-husk portion.
De-Husking system with automatic feeding, having arranged 2 plants in parallel with 72 Grinders in which Grinders are at 36″ diameter. Magnets are arranged in necessary places. Our units can produce 200 Kg of Mixture of De husked Materials per hour.

Husk Cleaning & Winnowing

The husk is then passed through gravity separators for further purification before custom packaging. This process is call as Winnowing.
Fumigation
The plant is equipped with a fumigation chamber, which was built as per specification and guide instructions from experts.
The dosage of the fumigant and treatment is carried out as per specification of the importing country and requirements of our customers.
Both raw Psyllium seeds and the final Psyllium products are fumigated as per the requirement of our customers.
Sterilization
Treatments of the finished product with Ethylene Oxide, Methyl Bromide, and Gamma Rays Irradiation are provided through contract facilities upon specific requests from the customer.
Packaging
We aim to provide our premium processed quality in flexible and cost-effective packaging solutions under total hygienic control areas, while ensuring that our product is kept safe during transit and in storage at the customer end. Typical types of packaging include:
Super Sacks:
Content Net Wt. 420 Kg/Bag , 950 Kg/Bag
Paper Bags:
HDPE Laminated Paper Bags with Inside foodgrade Poly liner. Content Net Wt.: 15 Kg/Bag , 25 Kg/Bag.
PP Woven Bags:
Laminated PP Woven Bags with inside food grade poly liner . Content Net Wt: 25 Kg/Bag, 50 Kg/Bag
Fiber Drum:Fibre Paper drum and silver plated ring with inner poly-liner. Content Net Wt. 25-50 kg/drum
Laboratory
Most of the tests including microbiological tests are conducted at our in-house laboratory, which help us in maintaining quality and supply of materials as per buyer's Specification.
Hygienic Condition
We take extra care on plant hygienic condition. Weekly / Fortnightly cleaning, prescribed Inner / Outer Spraying, Fogging, Rodent Trap Placing etc. are usual followed and the records are being maintained in logbooks. Our fumigation agent Excellent Pest Control are guide us time to time.