Besan (Chickpeas Flour) is produced by dehusking and milling brown (Desi) cheakpeas.
Besan is also known by many other names like Gram Flour, Chickpeas Flour,Ground Garbanzo Beans,Ground Chana Dal. Raw Chickpeas or raw chickpeas or roasted chickpeas are ground to fine powder to make yellow-coloured besan powder.Our besan is 100% free from any extraneous matter,colourin matter and preservatives.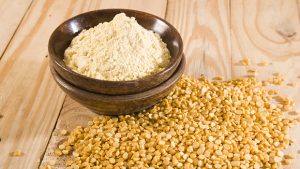 Nutritional Benefits
Gram flour is much more nutritious than wheat flour. It is low in styrated fat, cholesterol and sodium. Consider this: 100 grams of besan flour contains about 10 grams dietary fiber and 22 grams protein higher than usual wheat flour. It contains a hogh proportion of carbohydeates, up to 57 grams/100 grams. However, compared to the standard wheat flour, it is still lower in carbs. So, if you have to avoid gluten or are watching your weight, besan flour makes a healthy and versatile alternative to high carbohydrate wheat flour.
Besan is also rich in various nutrients including magnesium, copper, floate and manganese. It also contains iron, zinc, phosphorus, calcium ans potassium.
Studies in Melbourne, Australia made a comparative study of wheat flour and chickpeas to find their respective insulin response to middle aged men and women who have no health complications. The results, as published in a 2004 issue of The American Journal of Clinical Nutrition, mentioned that a chickpea-dominated diet resulted in significant reduction in blood sugar as compared to other diets. Another study, the result of whitch was published in the 2007 issue of The Journal of the American College of Nutrition, showed that besan flour could significantly decrease the quantity of total cholesterol from body, as compared to wheat flour.
Nutritional Benefits
| Typical Values | Per 100g |
| --- | --- |
| Energy (kcal) | 390 |
| Protein (g) | 20.15 |
| Carbohydrate (g) | 63.10 |
| (Of which sugars) (g) | 2.8 |
| Fat (g) | 5.0 |
| (Of which saturates) (g) | 0.5 |
| Fibre (g) | 7.5 |
| Sodium (g) | 55 |
Special Diet Information
| | |
| --- | --- |
| Vegetarian | Yes |
| Vegan | Yes |
| Gluten Free | Yes |
| Wholegrain | Yes |
| Nut free | No nuts used on line |
| Soya Free | No soya used on line |
Microbiological Standards
| | |
| --- | --- |
| Organism | Typical count per g |
| E.Coil | Absent |
| Salmonella | Absent |
Specifications
| | |
| --- | --- |
| Ingredients | Cheak Peas |
| Origin | India |
| Shelf Life | 6 Months |
| HS/HTS/NCM/TARIC CODE | 11061000 |
| Allergen Information | Gluten Free , Non GMO |
| Storage Condition | Store in cool dry condition. Avoid direct sunlight. |
Physical Specification
| TEST | METHOD | SPECIFICATION |
| --- | --- | --- |
| Colour | —- | Yellow |
| Flavour | —- | Chick pea flavor, free from any objectionable tastes |
| Texture | —- | Fine, free flowing dry flour, with any lumps easily broken with light pressure |
| Sieve | —- | 600 micron screen |
| Moisture | —- | NMT 12.00% |
| Total Ash % (On Dry Basis) | IS:1155:1968 | NMT 5.00 % |
| Acid Insoluble Ash | IS:1155:1968 | NMT 0.50 % |
| Insect Infestation | D.G.H.S Manual | Absent |
| Foreign Starch | D.G.H.S Manual | Absent |